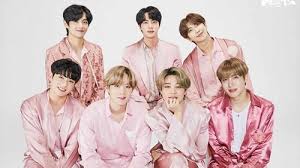 Bangtan Sonyeondan (BTS) diketahui tengah mempersiapkan sebuah lagu terbaru mereka yang bertajuk 'Dynamite'. Sejak pengumumannya dilakukan oleh pihak Big Hit Entertainment, Dynamite menjadi salah satu lagu yang paling dinantikan.
Dynamite sendiri diketahui akan dikeluarkan pada tanggal 21 Agustus 2020 besok.

Hits Daily Double
Menyambut peluncuran single terbaru BTS itu, Hits Daily Double memasukkannya ke dalam daftar 'A Ticking Hits List'. Berikut ini merupakan 10 daftar selain BTS:
MICHAEL RAPINO: Live Nation boss looks to the future, puts faith in 2021 live prospects as biz takes stock. That's the ticket
BTS: "Dynamite" shows signs of blowing up for Big Hit's K-Pop wonders as Team Columbia lights the fuse. We're stanning bigtime.
DES PEREZ: Roc Nation CEO spearheads launch of RN School of Music, Sports & Entertainment with Long Island U, due for 2021 Brooklyn opening. If only we were qualified for admission.
COLUMBIA: It's a label-wide "Sugar" high as Harry earns second Pop radio #1, Powfu, Jawsh 685 climb, BTS looms and Perry's Big Red hails the touch of Gray.
WHAT'S UP, DOC? : The Bunny's hopping in multiple genres as Dan + Shay get in "Bed" with radio, Dua remixes it up, Choppa takes off.
JIM ROPPO: Republic exec is pleased as folk as Taylor rules charts while Weeknd, Pop Smoke hits blaze on. He looks fetching in a "cardigan."
DABABY: Plenty of Blame to go around as SCMG/Interscope star's deluxe version ups the stream count—and Janick and Joie paint the nursery green.
TIKTOK: Will Microsoft rise to Trump's 45-day challenge and put mega-app in U.S. hands? Updates after these eight-second dance videos.
HEATHER LUKE: Big Machine/John Varvatos hitter is a stylish choice for GM. Don't worry—she'll still call you buddy.
DEANNA BROWN: Bible's chart-related dumpster fire continues as planned October rule change has industry feeling trick-or-treated like sh*t.
Makin tidak sabar nih menunggu BTS 'Dynamite' keluar. Kira-kira bagaimana ya lagunya?